"Easy & Smooth Experience Always"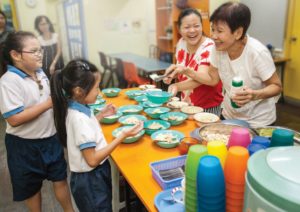 "Dear Mrs. Koh and Yishun Life Student Care Teachers,
I would like to express my thanks to your centre for taking care of Cavan. I have seen so much improvement in him after he joined your centre.
Before he joined your centre, he was extremely picky with food. He would not eat any fruit or vegetables. 
Since joining your centre, not only does he enjoy the lunch served at the centre, he has started eating more variety of food at home! We asked Cavan and found out that your teachers have been encouraging him to try various food.
I am also thankful that his homework is always completed when he returns home from your centre. His spelling tests in school have also improved!
I am pleasantly surprised that parents were also invited to some of the activities you conduct, this allows us to bond with our child!  
I like how the centre handles administrative matters and conveys timely information. This is very helpful especially for working parents. The parent portal app is very useful, I am always informed when Cavan leaves the centre.
I am really glad that I made the decision to move Cavan to Life Student Care (Yishun) even though the previous student care centre is much nearer to his school.  
Thank you once again for the care shown to Cavan, and to us parents."
 -Jane Phua, Parent of Cavan Low