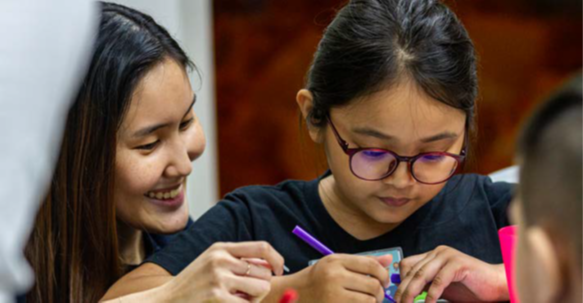 Friends2Gather aims to cultivate positive learning experiences by fostering mentoring relationships between mentors and children aged 6 to 8 from vulnerable backgrounds. The programme also provides befriending support to the families of these young children.
Read our mentors' testimonials below! 
When I first decided to volunteer for Friends2Gather, I truly did not know what to expect. The thought of having to take care of children and educate them through literacy and numbers was quite scary for me as I had never had the opportunity to interact with kids on such a personal level before. But after joining Friends2Gather and spending time with my mentees, I must say it is one of the best decisions I have ever made. This programme has not only positively impacted the kids and their families in numerous ways, but it has also touched my heart and the hearts of many others as well. This programme has provided a stable, consistent platform for the children and their families to rely on. Knowing that, every Thursday, their children will be surrounded by so many people who love and care for them, provides parents a sense of assurance and security. The support that LCSS and SMU have extended to these families will not only last the duration of the programme, but for a lifetime. I am grateful to be able to contribute to that and to make a difference. I have learnt many valuable lessons about myself and discovered some hidden potential while working with these kids. I have grown, just as they have grown. I look forward to our weekly sessions, and though the hours are short, I always try my best to maximise the time we have together and put a smile on their faces. At the end of the day, seeing them happy makes me happy, and seeing them smile makes me smile. I am forever proud of all our small achievements so far. Thank you to everyone for making Friends2Gather possible.  — Ong Yan Fay Valerie (SMU Volunteer) 
Coming into Friends2Gather, I initially doubted my ability to mentor the beneficiaries. I merely viewed the activities as ways to keep the children occupied. It was only after fully immersing myself in the experience, fostering close interpersonal bonds with the children and understanding their individual needs and personalities, that I got to understand the true impact of our actions. From shy, reserved, and hesitant individuals, we watched the kids slowly open up to us and share their personal stories, as well as warm up to each other and enjoy each other's presence during our weekly sessions, which many of them have grown increasingly excited to attend. Friends2Gather has become a place where the children can grow through play and interactions, hone their individual skills, and learn important values such as perseverance and teamwork. It has also become a safe and comfortable avenue for them to explore and contribute – a place of respite and where they belong.  — Sarah Chaing Wye Yarn (SMU Volunteer)
After initially being scared and hesitant to attend Friends2Gather, Trish has made remarkable progress in just a few months. We have noticed a significant improvement in her confidence and willingness to speak up. In fact, she looks forward to going to Friends2Gather so much that she asks to attend even on days when it is not scheduled. Prior to joining the programme, Trish was extremely shy and reserved, often only opening up to those she felt comfortable around. However, through Friends2Gather, she has blossomed into a more sociable and outgoing individual who is able to connect with others. Her ability to respond to questions, even from strangers, has improved greatly. I am delighted to hear her enthusiastic stories about Friends2Gather; it has become one of our favourite conversation topics at home. Thank you for helping Trish develop valuable life skills and providing a nurturing environment where she can continue growing and thriving.  —  Ifa (Trish's Mom) 
Friends2Gather Focus Areas
Our new Friends2Gather programme launched on 29 December 2022 supports children aged 6 – 8 years old from low-income families in the Bedok Town area.